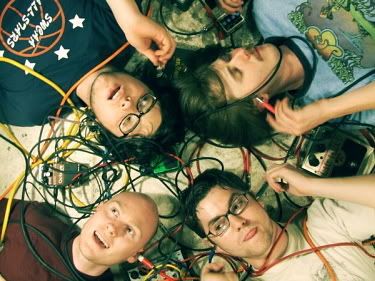 - London Novak

This weekend I had the blissful and extraordinary privilege to attend two events that weaved into each other. The first was watching one of my favorite bands twice and the second was getting the chance to interview them: So Many Dynamos from St. Louis. On Friday they performed with GC's own The Pragmatic at Off Broadway and on Saturday performing again at the Billiken Club this time without The Pragmatic, both in St. Louis.
The band is made up of four members, Clayton who's the percussionist, Griffin and Ryan who rock out on guitar and sing, and Aaron who does the lead singing and keyboarding. However, this isn't the kind of band when watching them seems like there are four members acting separately, trying to outdo the other, but working together as one. This is something I feel like some bands who make it to the "big time" forget to do. When I asked who came up with the lyrics, they told me that it was a collaborative effort that usually took a pretty long time. Because it's not dependent on one person, if somebody feels uneasy about a certain stanza, then it is reworked until that member is content. That is, of course, if there is no time crunch involved.
Starting out as little tykes who just played music, they decided to start a band while Clayton was still in high school. Soon after, in 2003, they put out their first single, Are We Not Drawn Onward to New Ear?, produced by Ambivalent Records. Within the next year, they put out their first full-length album titled When I Explode. It was during this time that Ryan and Griffin, who were attending college for jazz music, decided to drop out to focus more on the band. Their parents' weren't at all thrilled, but were still very supportive in whatever their sons were doing. Their parents still support everything they're doing, so much in fact, that Ryan's parents came to the show on Saturday to pinch and kiss his cheek for good luck.
Influenced by Weezer, Talking Heads, Radiohead, and DeathCab, the band has worked hard to come up with their own sound, and have done so quite successfully. Griffin told me, "I think we're more self-aware of our strengths and weaknesses. We've made a lot of mistakes, and it's not that they were wrong, but they helped us gain our balance." When I asked how they've progressed as a band, they looked around at each other not knowing where to start. "When we first started, we tried having a sound that was somebody else, and it took us awhile to get out of that stage and find who we were and what we wanted," told Ryan.
Listening to S.M.D. is like a dropkick of ecstasy to the ears while adrenaline lines every crevice of your body. When they play, you could just feel the good vibes excreting from them and penetrating the audience. Watching them is just as exciting because they're totally into the music. In fact, there's not too much that they do that doesn't revolve around playing music. They have two other bands, one being a Weezer cover band In the Garage and Thor Axe which is a seven member instrumental band. Besides watching some T.V. shows (Lost, Dexter, Flight of the Concords), having the occasional potluck with some friends, and catching up on current news by listening to public radio, music has proven to take over the majority of their time.
One of the last questions I asked was what they wanted to be when they were 'little'. I knew this question didn't have too much to do with them and the band, but it was asked only for the sake of humor, and some of the responses I received were pretty funny. Griffin always wanted to be a diehard guitarist, while Ryan wanted to be a famous baseball player until 12 when he wanted to play music. Clayton's answer was quite interesting being that he wanted to be either a marine biologist or a private investigator. Who knows, maybe he could've been they guy to uncover the Blagojevich scandal. Then that leaves us Aaron who wanted to be 'the nerd of my dreams', it was beautiful. Seriously.
Thus concluded our interview and I bought the boys their promised sodas which they extremely enjoyed before they went on to play. All in all, it was a great weekend for me and all their fans who will continue to cheer the group on. Rock on, boys. Rock on.
You can check out So Many Dynamos and The Pragmatic's performances from Off Broadway at www.papyrusartsandpopculture.blogspot.com